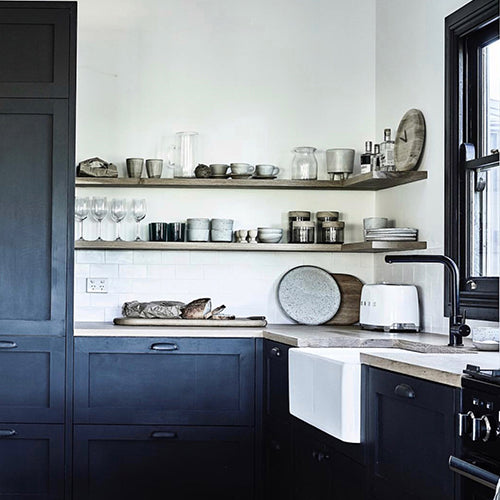 You wouldn't think there could be that many shades of black, but far out, there are truckloads! The search for the perfect tone was extensive when I was figuring out the best black for our hardware range. In the end a "charred log" was the best description I could give my manufacturer. Completely matte in lustre but with a three-dimensional depth that can only be achieved through electroplating. Black hardware can also be powder coated, however it doesn't give you this type of finish. It can be shiny and almost plastic looking. Our Carbon Black range is now our best-selling colour way, as it goes with pretty much every style you can think of. Love the black-on-black styling in the above kitchen by @aligriffithsinteriors.
Here, our Bronte Range in Carbon Black is making itself comfortable in one of @ascotliving creations. They did such a good job it graced the pages of Australian House & Garden magazine.
Both elegant and bold, matte black always makes an impact, whether that's across lighting or tiles, not to mention hardware! As we renovate our headquarters, I have serious tiling on the brain - so many beautiful options! Loving these monochrome Moroccan concrete tiles by Popham Design. 
We made sure our Carbon Black matched some great Australian tapware companies. The matte black taps of Astra Walker, Brodware and Sussex, above, will complement perfectly.
I'd paint my house black over white any day! Riverhawk Ranch at Brunswick Heads is such a good example of how black-on-black can be done so well. Load it up and all the different dark tones just make sense.