In love with Burnished Brass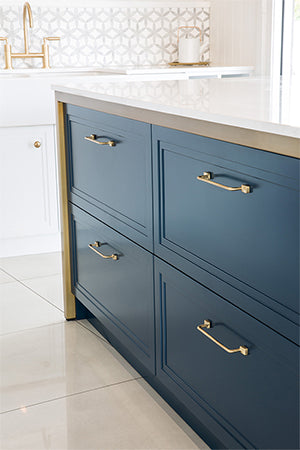 To say creating Hepburn's burnished brass finish was a labour of love would be an understatement. But I'm thrilled to say we got there in the end! Where do you begin when there are so many variations in colour? I deliberated over this for about a year before realising that given our clients mainly use our hardware in kitchens and bathrooms, the colour has to work perfectly in these spaces. Tapware is hardware's partner in crime and if they aren't playing nicely, the whole situation can get awkward. That's why I made sure the finished product matched back with Australia's most popular tapware companies.
Our burnished brass is electroplated, so it won't patina over time, and the satin finish won't leave finger marks. It's now one of our most popular finishes, available across our entire solid brass hardware range. - Alison x
Images (top to bottom): Kitchens by Kathie, Hepburn Hardware Sydney range in Burnished Brass.
Brass is such an all rounder and will happily sit on white, dark or brightly coloured cabinetry. It's like putting on a pair of gold earrings - all of a sudden everything else you have on just works. I get such a kick out of seeing how everyone has used our hardware in their projects, so keep posting! 
Images (l-r): @strittdesignandconstruction, @empire_interiors, @melissaallendesign
Our burnished brass matches tapware by brands like Sussex Taps, Astra Walker and Brodware, whose Brushed Euro Plate finish, right, is seen here matching back beautifully with our Sydney knob in burnished brass. We want to help ensure clients can confidently choose their hardware and their tapware, avoiding any surprises come installation day. As always, I'd love to chat with you about selecting the best hardware for your projects.